Every year, Messe Friedrichshafen forms the platform for the largest fruit tree fair in the Lake Constance region ("Fruchtwelt Bodensee" / February 12-14, 2020).
Since the 2018 season, the trade fair has been offering its trade visitors, usually fruit-growing companies, optimum protection for the cars of trade fair visitors and exhibitors, thanks to our specialist dealer Baywa-Tettnang.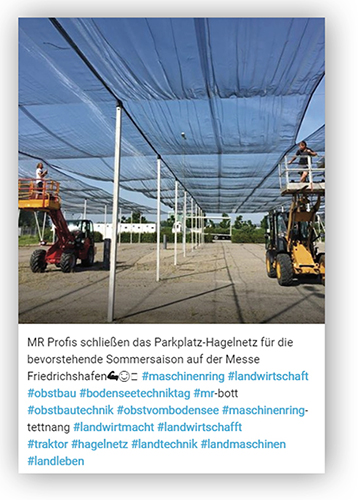 They now park under a hail and insect protection net from CMG. The innovative thing about it is the zipper, which can be rolled up quickly for winter storage during the winter months and fixed to the ridge wire. Should snow nevertheless fall, the cover opens automatically by releasing the sledge with a small push!
The Friedrichshafen trade fair shows the innovation of CMG not only for the protection of fruit varieties.
… when technology becomes function, the CMG principle!