Insect nets wine and fruit cultivation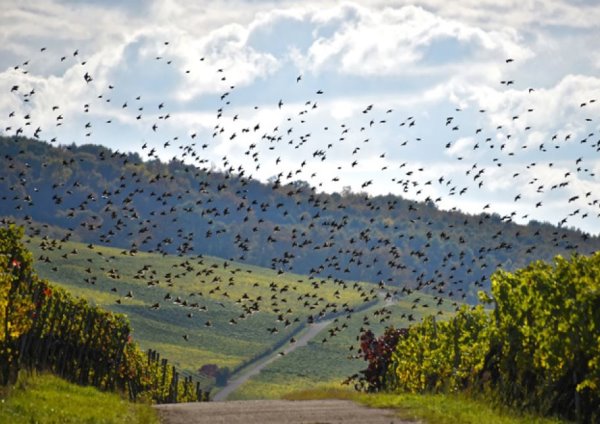 Bird and insect protection for wine and fruit cultivation
Apart from the fact that birds can transmit diseases, the crop losses caused in the farmer's wallet really hurt. Starlings and blackbirds are capable of destroying up to 30% of a berry harvest, or insects such as the Cherry vinegar fly (drosophyla sukii) and marbled Chinese bug (halyomorpha halys) bite fruits such as grapes or blueberries and the fruit becomes unusable. It has been proven that CMG protective nets are the best and safest protection against these pests.
Insect and bird protection in a short time
The innovative safety net system has its zipper attached directly to the net. This ensures fast opening and closing at all times. You only need 25-35 minutes per hectare. Only 4 badges per row to secure the net ends means 114 badges/ha instead of the conventional 2,200 badges/ha, per se an enormous saving. We have tested it for you. Thanks to CMG, you will be 5 times faster than usual when mounting overnight.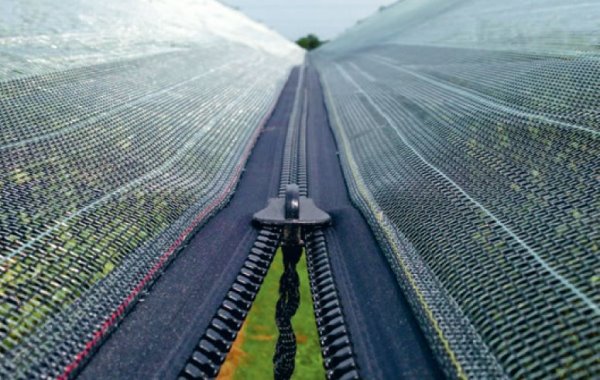 Halyomorpha halys, tree bug
The marbled tree bug (Halyomorpha halys) colloquially also known as stink beetle or BMSB, brown marmorated stink bug, is a tree bug species with natural distribution in temperatures like East Asia.
The species is regarded as an agricultural pest and was introduced as neozoon to North America, later also to Europe and has already been found in Germany, Italy, Austria and Switzerland.
Combating the tree bug with insect nets
The marbled tree bug is particularly harmful by sucking fruits and fruit plants, including peach, apple, pear, hazelnut, grapevine, but also corn, soybean, tomato, paprika and eggplant. The suction process deforms the fruit, discolours it and makes it unsightly. Also plant pathogens, like molds of the genus Eremothecium, can be transferred additionally. Harvest damage can amount to up to 50 percent. The species is usually combated by the use of insect screens from CMG.
Drosophila suzukii, cherry vinegar fly
The cherry vinegar fly (Drosophila suzukii) is a species of the fruit fly family (Drosophilidae) and is closely related to Drosophila melanogaster. It is native to Southeast Asia and was first described by Shonen Matsumura in 1931. In the period since 2000 it has also been used in several European countries; 2009 in Spain, France, Italy and Slovenia, 2011 in Switzerland, Austria, Belgium and Germany.
Controlling the Cherry Vinegar Fly with Insect Nets
The species is considered a pest in fruit growing because it damages the ripening fruits of cherries, blueberries, raspberries, blackberries, peaches, plums, nectarines, apricots, grapes and others. Their rapid reproduction can cause great damage. The short generation cycle of the cherry vinegar fly makes it an insect that is difficult to control with today's insecticides.
The infestation of the fruits shows itself by small damages and pressed in soft stains on the surface. The damage is caused by one or more maggots (larvae) eating the flesh. Infested fruits begin to decay very quickly around the feeding site. Due to the very rapid development, only two to three days can e.g. elapse between infestation after egg laying and collapse of the fruit in cherries. In addition, secondary infections by fungi or bacteria after infestation can contribute to a further deterioration in quality (rot or acetic acid fermentation).
Drosophila suzukii attacks healthy fruits shortly before harvest. This peculiarity makes it an insect that is difficult to control, since no insecticide can be used immediately before harvesting; only direct hygiene measures are possible, such as removing and destroying all fruits from the plant, e.g. by burying them (30 cm) in the ground. Composting is not suitable for destruction. The timely and complete use of close meshed insect nets from CMG is a further measure.
Enquiry for insect and bird nets
If you need an offer for bird nets or insect nets, please use the following enquiry form. We will contact you as soon as possible.