Press release: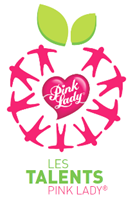 Pink Lady® talent: Award goes to South Tyrol
to CMG-Ideenfabrik K GmbH
The Pink Lady Europe association is increasingly focusing on the issue of sustainability and is keen to learn about and evaluate initiatives and projects initiated directly by members. To this end, following the success of the first two editions in recent months, the third edition of the "Pink Lady® Talents" competition was held.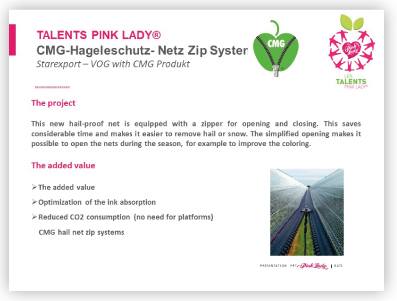 Within the framework of the competition, all members of the Pink Lady® production chain were able to submit innovative ideas and concepts that have already been implemented. The primary aim of the competition is to drive progress forward.
Among the three new Pink-Lady® Talents chosen by an expert jury, there is also a South Tyrolean winner with the innovative hail net system of the CMG Idea Factory. The roofing system is equipped with a zip fastener and thus provides several advantages: The quickly opening and closing net not only saves a lot of time, but also provides increased protection for the apples and reduces CO2 consumption many times over. The simplified system works with less machine use, provides high safety in hail and snowfall and effective protection against possible pests, such as the marbled tree bug.
The award in the category "Innovation in Fruit Growing" was accepted by Mr. Georg Gallmetzer as one of the managing directors of CMG, recently in the House of Apples in the presence of VOG director Walter Pardatscher, VOG chairman Georg Kössler and Thierry Mellenotte, general manager of Pink Lady Europe.
Comment G. Gallmetzer (CMG):
"Our aim is to achieve the greatest possible success for the hard work. An apple like Pink Lady® only achieves good prices on the market when the quality is right. To receive this award makes us very happy and motivates us to create further ideas and put them into practice".