When technology becomes function.
Time and again our customers from the fruit-growing industry asked us for a solution to the issue of rain protection for cherries and stone fruit plantations, but also for apple producers with varieties susceptible to scab. Our technicians, in close cooperation with our sales partners in Europe, have developed a solution for this.
The new product (RHI net) combines the following advantages according to the principle: four-in-one, or four-in-one: rain-hail-insect-dubblesytems: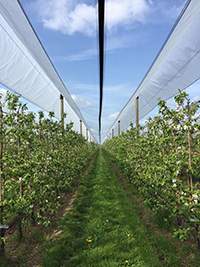 – Rain protection fabric over the ridge wire of approx. 2.00m
– Hail protection net, integrated into rain protection, for drainage
– Optimum load transfer for hail, rain, snow and wind of the entire system
– Insect protection, e.g. cherry vinegar fly (Drosophila suzukii) or marbled tree bug (Halyomorpha halys), by the CMG zipper, which is also supplied as a supplementary eaves net with insect protection net.
The current product saves the fruit producer from cost-intensive foil hail net double coverings and at the same time offers optimum protection against insect infestation.
…………If that does not pay off!…….
CMG… when technology becomes function… the new covering from CMG, the RHI net!