Exclusive Cooperation Agreement
The CMG management (Georg Gallmetzer CTO and Martin Kloberdanz CEO) came back from a successful business trip from Nantes – France!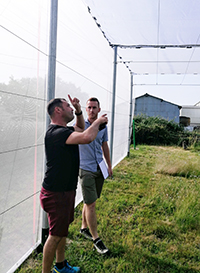 Both companies signed an exclusive cooperation agreement with immediate effect. Thus ID MAT secures the exclusive distribution rights for France as well as the associated islands of the CMG patented protection systems for food cultivation.
On the basis of the test plant with CMG network systems built in March, ID MAT is already planning plants for special crops in French Polynesia. Both companies see the cooperation as a great opportunity to improve the quality of the results of agricultural production. Th. Piou, member of the management board of ID MAT, already underlined this during his visit to South Tyrol, where he visited some CMG plants in April.

IDMAT Group
arbo@idmat.fr
Office : +33 (0)2.51.71.67.69
www.arbo-idmat.fr